To be honest, I am not sad that the year 2020 and with it hopefully soon also the global pandemic come to an end. It was not a particularly satisfactory year for me, but a very productive one. Over the weekend, I have taken stock of all articles, research papers, podcasts, webinars, panel discussions, etc. in which I was involved. I counted 54 publications/events. This is slightly more than one item per week. Below you find a list with links to some of the articles and event recordings.
There are already exciting projects in the pipeline for 2021. Stay tuned. I wish you a good start into the next year. Stay healthy!
The year in numbers
Published 2 academic working papers
Taught 2 trainings/courses
Visited 3 conferences
Wrote 7 articles/op-eds
Was a guest in 11 webinars/podcasts/etc.
Published 29 podcast episodes (Bitcoin, Fiat & Rock'n'Roll)
The year in detail (a selection)
Research: Future of Payments in a DLT-based Economy
Bechtel, Alexander; Ferreira, Agata; Gross, Jonas; Sandner, Philipp: The Future of Payments in a DLT-based European Economy: A Roadmap. 2020. [Link]
Research: Money in programmable applications
Deutsche Bundesbank: Money in programmable applications. 2020. [Link]
Comment: I contributed as participant of the working group on programmable money
Teaching: Master in Banking and Finance, University of St. Gallen
Video Lecture Series on Monetary Policy and Financial Markets [Link]
Crypto Assets Conference, Frankfurt
Talk: Programmable Money and Programmable Payments [Link]
Panel: Leveraging Blockchain Use Cases Through Programmable Money
Panel: Which Hurdles Still Exist for the Digital Programmable Euro to Go Live?  
Blocktrainer YouTube, online
Interview: Central Bank Digital Currencies [Link DE]
RBI Blockchain Night, online
Panel: Interoperability of Blockchains [Link]
Bitkom, Webinar
Talk and Panel: Central Bank Digital Currencies [Link DE]
Hanseatic Blockchain Institute, online
Talk: The Future of Money [Link DE]
Verbraucherzentrale Bundesverband, Berlin
Talk: The future of money – What is behind Bitcoin, Libra, CBDC, and Co.?
Panel: Digital payment systems of the future
Deutsche Bank Festival of Finance at SIBOS 2020, online
Panel: Central Bank Digital Currencies [Link]
Digital Kompakt, Podcast
Interview: The Future of Currencies – Programmable Money [Link DE]
Bitcoin verstehen, Podcast
Interview: Bitcoin and Money [Link DE]
2nd Crypto 49ers Bitcoin Bootcamp: Bitcoin and Monetary Policy, Hamburg
Talk: From QE to CBDC – The crazy world of monetary policy and how CBDC could change our life
Konsenes&Nonsens, Podcast
Panel: Do we need central banks? [Link DE]
Payment&Banking 5pm Club, Webinar
Panel: Cryptocurrencies [Link]
Blocktrainer YouTube, online
Interview: Monetary policy and Bitcoin [Link DE]
Frankfurt School Blockchain Center, Webinar
Panel: The Future of Money [Link]
Bitbucks, Webinar
Panel: Bitcoin Basics [Link DE]
Einundzwanzig, Podcast
Interview: Unconventional Monetary Policy in the Euro Area [Link DE]
Over the last weeks, I had the pleasure to be a guest in different webinars, online panels, and podcasts. Additionally, I finally started travelling again and had the chance to speak at "in-person" events. I visited the Federation of German Consumer Organisations (Verbraucherzentrale Bundesverband) in Berlin to talk about the future of money. One week later, I gave a talk about unconventional monetary policy at the Bitcoin Bootcamp organized by Ulf Heyden in Hamburg.
Below, you find a selection of the online events, in which I participated.
Interview with Roman from Blocktrainer (German)
The future of money – Frankfurt School Blockchain Center Panel (German)
5 pm Club of payment&banking on cryptocurrencies and stablecoins (English)
Podcast appearances (German)
Digital Kompakt Fincast: Die Zukunft der Währungen: Prgrammierbares Geld?
Konsens&Nonsens: Brauchen wir Zentralbanken?
In August, I have started working at Deutsche Bank, more precisely in the strategy division of the corporate bank. My job is to make the bank fit for the future when it comes to digital money and blockchain. Since I am the first official hire of Deutsche Bank that deals with these topics, several media outlets have picked up the story, including Handelsblatt, finanz-szene.de (both German), and finews.com (English).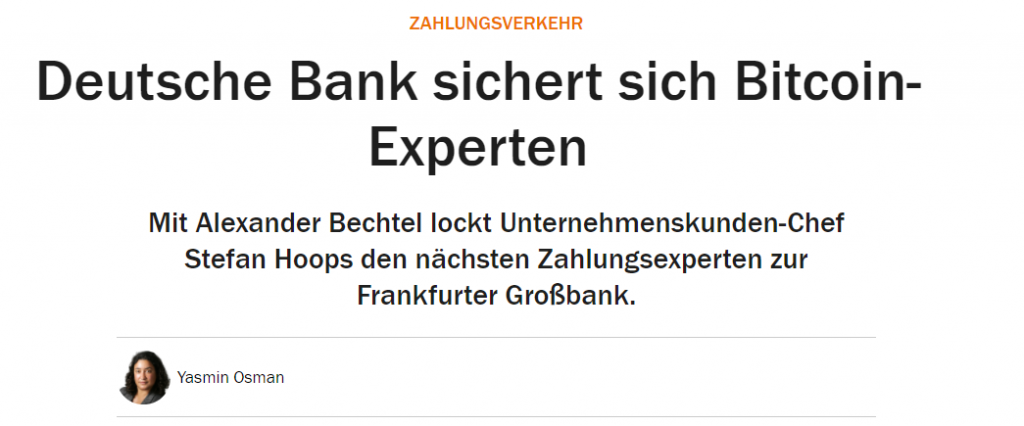 This article is joint work with Jonas Gross and was originally published on Medium.
Central bank digital currencies (CBDC) are becoming reality. On 16 April 2020, the Chinese central bank has started the test phase of its CBDC, called Digital Currency / Electronic Payment (DC/EP). It is currently tested in four Chinese cities: Shenzhen, Suzhou, Chengdu, and Xiong'an. China might be the first industrial economy worldwide to introduce a CBDC. This article outlines the current status of the DC/EP project and its economic and social implications.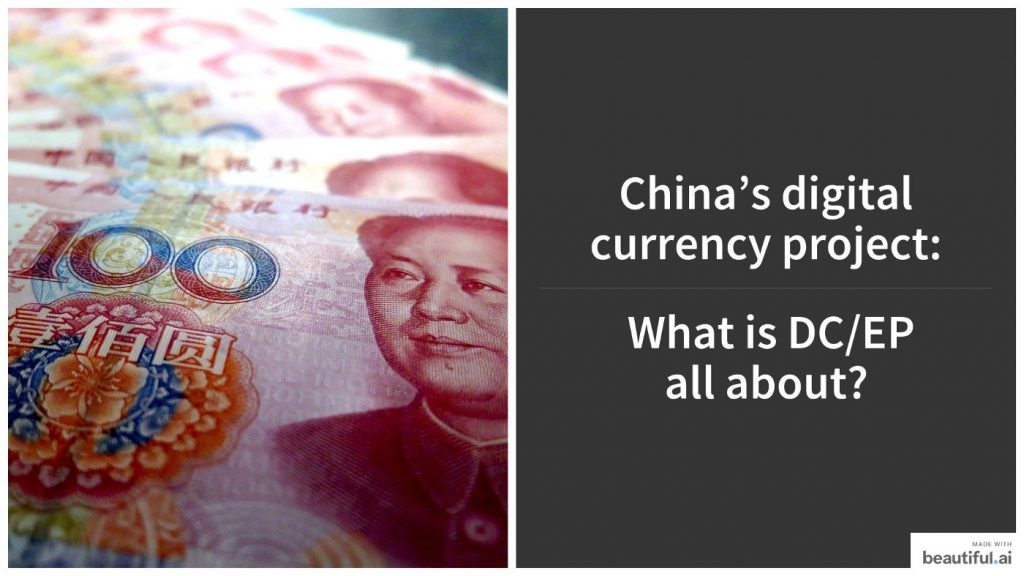 Mobile payments in China widespread
With 790 million users, more than 60.5 billion transactions, and a transaction volume of USD 41.5 trillion, China is a global pioneer in mobile payments. Studies in the cities of Shanghai, Beijing, and Hangzhou show that the market share of mobile payments is up to 60%, compared to 20% cash. According to the Deutsche Bundesbank, in Germany, cash accounts for almost 50% of the payment volume, while mobile payments are negligible. Given the widespread use of digital payments, it is not surprising that the Chinese central bank, the People's Bank of China (PBoC), has been working on its own digital currency since 2014. As early as 2016, a research institute for the Development of Digital Currency/Electronic Payment (DC/EP) was founded. In April 2020, the DC/EP project reached an important milestone: the test phase.
The test phase has begun
The Chinese CBDC is currently being tested in four Chinese cities: Shenzhen, Suzhou, Chengdu, and Xiong'an. Up to 50% of the mobility subsidies of government employees are paid out in digital form via mobile DC/EP wallets. Numerous banks, telecommunication, and e-commerce companies such as Tencent and Alibaba participate in the test phase. According to Shirley Yu, Asia fellow at the Harvard Kennedy School, large US franchise companies such as McDonald's, Starbucks, and Subway have become the first vendors accepting the Chinese CBDC. A second major test run is planned during the 2022 Winter Olympics in Beijing.
How exactly the test runs will be carried out and how the DC/EP will ultimately be designed is still largely unclear. Information about the Chinese CBDC is quite rare, and communication by the PBoC is relatively opaque compared to western CBDC projects. The published information mostly stems from media reports or cooperation partners and only partly from the PBoC itself.
Design of the DC/EP
The Chinese CBDC is more than just another form of mobile payment. It aims to replace a part of the M0 money supply in the Chinese monetary system. Hence, DC/EP is a digital form of the physical Renmimbi (RMB). It is designed as digital cash and does therefore not carry any interest rate.
DC/EP uses a two-tiered system. The first layer is between the central bank and the banking sector, including also Alipay and WeChat Pay. Through this wholesale layer, the PBoC supplies CBDC to banks. These banks can then channel the CBDC through the second layer to retail clients via digital wallets. Clients do not need to hold a bank account to use the DC/EP.
The Chinese CBDC is not decentralized. The decision power is fully allocated to the central bank, even if distributed ledger technology (DLT) might be one technology used for the DC/EP. The exact role of DLT remains unclear at this point.
How do transactions take place?
Payments with DC/EP will be possible by scanning a QR code or touching another smartphone. The latter possibility would be particularly relevant in the case of a limited Internet connection. So far, however, the insights into the transaction process are still too rudimentary to make an in-depth analysis.
Goals of the DC/EP project
What are the intentions of the PBoC with the CBDC project? The PBoC wants to promote digitization in China and is reacting to a decreasing demand for cash. Significant efficiency gains can be realized through digital payment processing. Cash is relatively expensive due to the costs of storage, sorting, cleaning, and its distribution. A public digital payment system could significantly reduce these costs. COVID-19 might also contribute to an increasing demand for digital payments in the future, as citizens fear virus infections through banknotes.
Currently, the majority of transactions in China are processed via private payment systems such as Alipay and WeChat Pay. The PBoC intends to create a public transaction platform to reduce the systemic relevance of these companies in the market for payments and thus strengthen both PBoC's supremacy and financial stability.
Privacy and capital controls
Experts fear that the DC/EP project will negatively affect the freedom of Chinese citizens. Presumably, data on the transaction amount, location, and payment sender and recipient will be visible to the central bank. In addition, personal data, such as the identity of the payee, will be stored digitally. In this way, the PBoC would gain insight into the payment behavior of Chinese citizens.
Potentially, the DC/EP system could also be interlinked with the social credit system creating the possibility to exclude citizens from making financial transactions if they do not play by the rules. According to the Guardian, 23 million people had been prohibited from purchasing flight and train tickets by the end of 2018.
Finally, full control over the payment system also enables the central bank to implement capital controls more effectively. While the PBoC can control the movement of physical banknotes only to a limited extent, a CBDC would enable full control over cross-border capital flows. It should be noted, however, that partially anonymous payments in DC/EP could be allowed. Alipay has filed a patent application for anonymous payments with DC/EP.
How large will the DC/EP become?
Citic Securities estimates that the DC/EP project could reach a total size of 1 trillion Yuan (140 billion US dollars) in the next few years. This would correspond to the digitization of about one-eighth of the cash in circulation in China. However, the volume could be considerably higher if, for example, foreign investors were granted access to DC/EP.
This could lead to an internationalization of the Yuan. Might the Chinese CBDC challenge the hegemony of the US Dollar as the world's reserve currency? According to data from the International Monetary Fund, we are still far away from that. At the end of 2019, the US dollar has accounted for more than 60% of global foreign exchange reserves with the RMB accounting for less than 2%. The digital Yuan will not simply become the world's leading currency only because it is digital. Eventually, it will be the strength of the Chinese economy and China's willingness to open its economy to international investors that will drive the global use of the Yuan.
Ex ante, it is not clear to what extent the Chinese government is willing to take the necessary steps to enable the internationalization of its currency. There is a tradeoff between the global use of the Yuan and the strict Chinese capital controls. If the PBoC intends to use the DC/EP to strengthen the Yuan's international position, capital controls would have to be restricted.
In the long run, there is pressure to move towards state-backed digital currencies because these currencies create an easily accessible store of value and means of payment for investors around the world. The digital Yuan brings the Chinese currency to the international stage and could eventually challenge the US Dollar's dominance in the future.
DC/EP project as a global pioneer
The current progress of the DC/EP project shows that China is a CBDC pioneer, even though a market launch of the CBDC will take at least until 2022. There are smaller countries or island groups, such as the Marshall Islands or the Bahamas, which are already working on a CBDC and are at a similar stage of development. However, these CBDC initiatives primarily address the limited number of inhabitants of these islands, while DC/EP would be available to billions of Chinese citizens and maybe even beyond.
The European Central Bank (ECB) is also working intensively on a CBDC for the euro area. So far, however, this is more conceptual work. According to ECB Executive Board member Yves Mersch, the introduction of a CBDC in the Eurozone is unlikely to happen in the near future due to the still strong role of cash.
In the US, efforts to establish a CBDC are currently purely driven by the private sector. The Digital Dollar Project, which is a joint venture by Accenture and the Digital Dollar Foundation, has taken a leading role. On 29 May, they published a white paper describing their model of a US Dollar CBDC. The Fed remains silent about whether it is working on a CBDC itself.
As part of my podcast Bitcoin, Fiat & Rock'n'Roll, I have produced a series (in German) about the creation of money. I start with common forms of money such as central bank money and bank money (Buchgeld). In later episodes, I talk about more "esoteric" forms of money such as Libra, Bitcoin, and Gold.
The series aims to give you an understanding of our current monetary system and how new forms of money relate to it. The podcast is in German. You can find the series below and on most of the relevant podcast apps.
Part 1: Zentralbankgeld
Part 2: Buchgeld
Part 3: Libra
Part 4: Bitcoin
Part 5: Gold/Warengeld + Wrap Up
I am happy to have won the Swiss Finance Institute Best Discussant Doctoral Award 2019 for my discussion during this year's SFI Research Days (https://www.sfi.ch/en/faculty/research-days). I would like to thank the Swiss Finance Institute for the price and the interesting conference.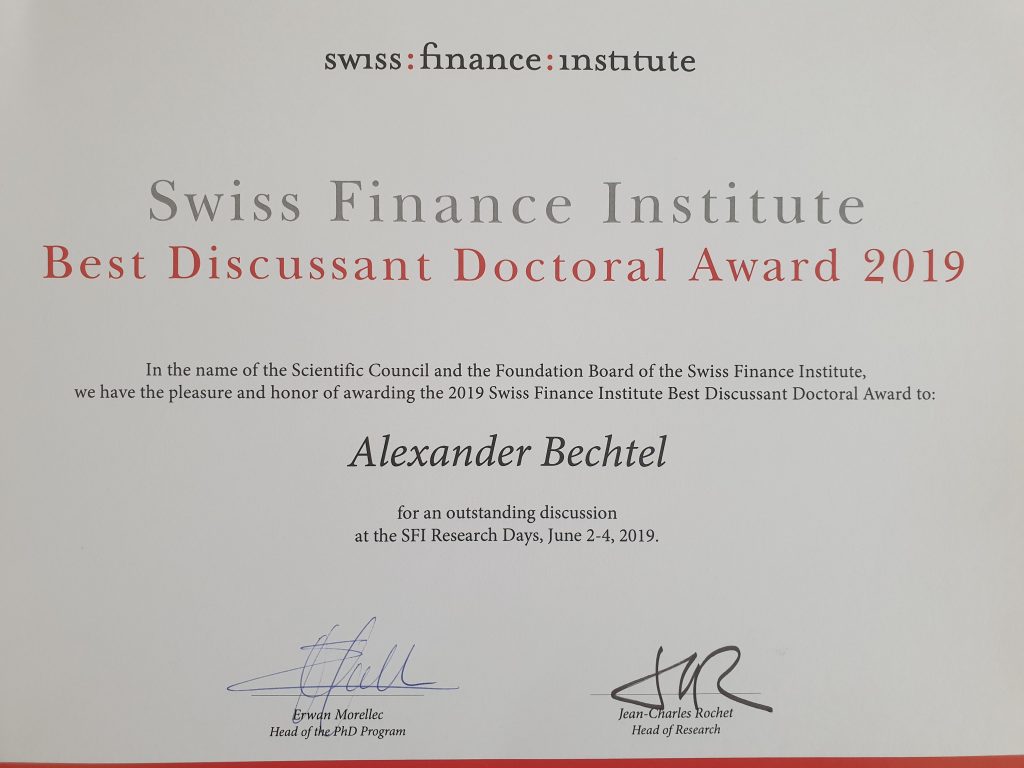 I am launching a new podcast called Bitcoin, Fiat & Rock'n'Roll. It is a weekly show on topics surrounding digital currencies and fintech in the payment space. It is not a podcast on cryptocurrencies only, although Bitcoin and Co will play an important role. Instead, I want to approach the topic of digital currencies more broadly and discuss it from the perspective of a monetary economist.
The podcast is currently only available in German.
You can find the podcast on all major platforms, such as iTunes, Google, Spotify, Deezer, Stitcher, Castbox, Podigee, and Blubbry.
I highly appreciate any feedback, ratings, and subscriptions. I will mainly use my German Twitter account to post updates on the podcast; so, make sure to follow me @alex_bechtel_de.
Best,
Alex
I am happy to share with you our new working paper "Liquidity Risk and Funding Cost", available at https://ssrn.com/abstract=3391129.
The paper is joint work with Angelo Ranaldo and Jan Wrampelmeyer. We propose and test a new channel that outlines how funding liquidity risk affects interest rates in short-term funding markets – the funding liquidity risk channel. Unlike existing theories on interest rate spreads, the funding liquidity risk channel does not work through premiums demanded by lenders. In extant literature, interest rate or yield spreads are usually attributed to premiums required by lenders as compensation for default risk and market illiquidity. If borrowers are more likely to default or if markets are illiquid, lenders demand higher rates of return. In the funding liquidity risk channel, we turn this rationale upside down. Exploiting the unique market design of the euro interbank market, we show that borrowers themselves are willing to pay higher rates to lock in their funding if they are exposed to liquidity shocks.
The borrower markup is essential for understanding yield spreads in fixed-income markets. We show that banks differ systematically in their liquidity risk, which leads to systematic differences in their funding cost (see figure). 

Our results have important implications for policymakers, (central) banks, and academia. Interpreting interest rate spreads without considering funding liquidity can be misleading. In addition, heterogeneity in short-term funding rates can undermine the efficient allocation of liquidity and the pass-through of monetary policy.

I am looking forward to presenting the paper at this year's EFA Meeting in Carcavelos, Portugal.